A warm welcome was extended to all in the Opening Ceremony of the 21st Funakoshi Shotokan Karate World Championships. The mayor of Crawley and special guest, Kyle Funakoshi were introduced. Lined up, some fourteen countries and many many competitors filled the K2 Arena end to end. It was a rousing start to a well drilled and exciting day of competition. This was day two, for 11-17 year olds. Day one for Seniors, day three for the youngest competitors. A few medals ensued.
Kata
E Lewis, Individual Kata, Silver
A Starsmore, Individual Kata, Bronze
B Whiteman, L Symonds, A Sore, Team Kata, Bronze
P Prins, E Lewis, D Hughes, Team Kata, Bronze
E Lewis, D Hughes, Pair Kata, Bronze
D Hughes, D Gnennijs, Pair Kata, Silver
H Mercer, Pair Kata, Gold
H Mercer, Team Kata, Bronze
Kumite
J Welsh, Individual Kumite, Silver
J Welsh, B Whiteman, L Symonds, Team Kumite, Silver
P Prins, F Pinkney, A Polyakov, Team Kumite, Bronze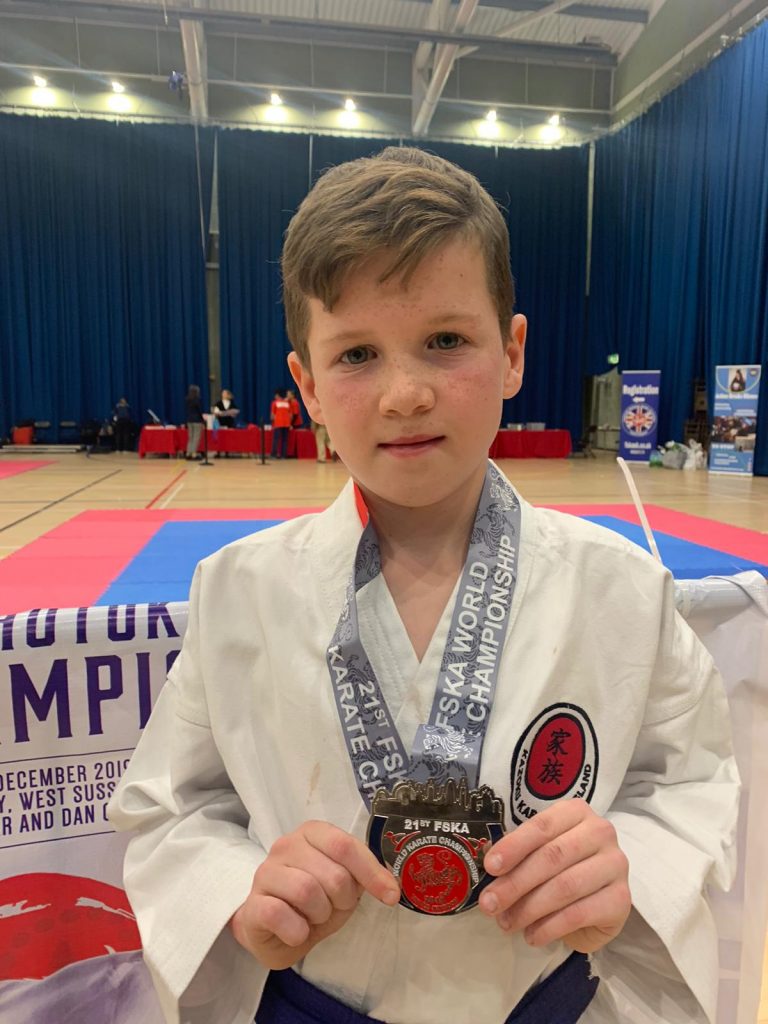 In Kata, our team got through a few rounds of competition before bowing out except for Lewis who stuck in there through 5 rounds of kata, eventually losing out by a whisker to a superb Italian competitor, to win Silver. Whiteman, Symonds and Sore demonstrated their excellent synchronicity as a team, winning Bronze. Several teams stepped up in age groups and won medals. Other highlights were to be had in the exciting team kumite competition, Welsh, Whiteman and Symonds eventually won Silver in a very closely fought competition. In the individual event, Welsh had some tough fights, going a Waz-ari down in the final before drawing level but finally winning Silver.
Congratulations to all our team members for their efforts and commitment:- J Welsh, B Whiteman, A Sore, L Symonds, A Wright, E Huntington, I Abedin, P Prins, F Pinkney, E Lewis, A Polyakov, D Hughes, D Gnennijs, O Essilfie-Quaye, H Mercer, A Starsmore and B Prins.